Mayor's Musings for September 2023—By Steve Fairbairn, Mayor for the District of Elkford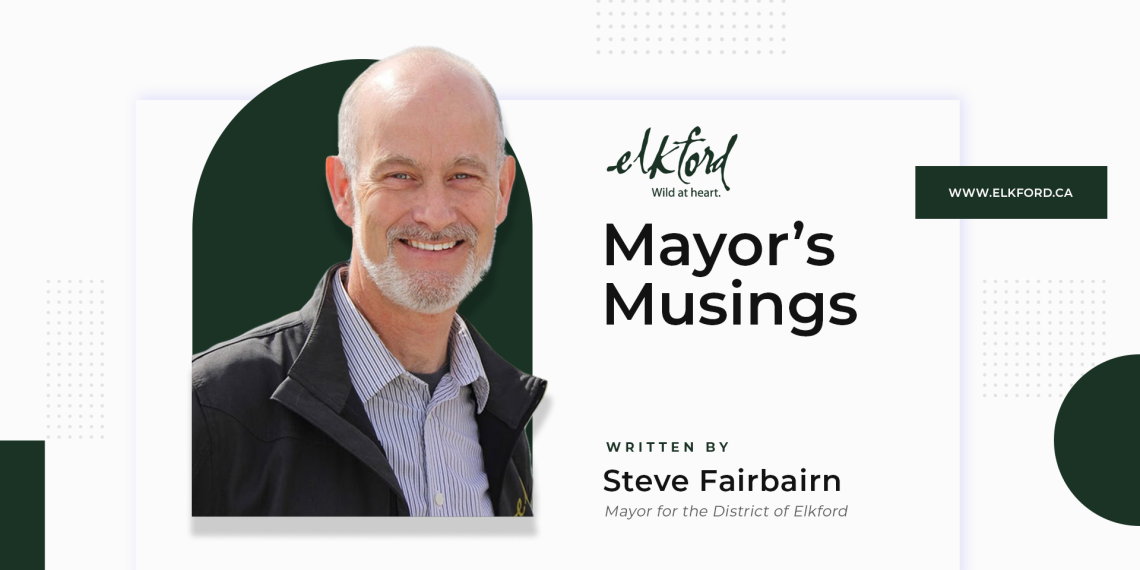 Mayor's Musings for September 2023
by Steve Fairbairn, Mayor for the District of Elkford
Hello, Elkfordians! Well, summer's glorious blue skies and warmth have once again suddenly shifted into autumn's colours, cooler weather and (eventually) frosts. Good for the forest fire situation!
Wildfire Safety Reminders
Speaking of that: although the area restriction around the Mount Bingay wildfire has been lifted, a friendly reminder that this doesn't mean the wildfire is out or that travel in the area is totally without risk. Wildfires mean trees have been damaged, root systems weakened and who knows what changes have been made to the ground. For your safety, and the safety of firefighters, exercise caution in and around the area please!
Celebrating Elkford's Coal Mining Heritage
Teck Resources Ltd.'s Fording River Operations has recently celebrated a milestone anniversary. Lots of folks (heck, everyone in Elkford) can thank the mines in this area, the various companies and both their workers and their unions for 50+ years of stable, well-paid employment including benefits and retirement plans. Not every worker in Canada enjoys these types of working conditions. Whether or not you work "for the man," you are working (and hopefully living) in Elkford because of coal mining.
Good work to Teck and the United Steelworkers Union for putting together such a well-attended and successful community event! A job well done. Yes, thanks to all who helped with the various celebration activities too, like live music at the Union Hall! Always a great thing to promote and enjoy.
Power Outages
In other news: Telus Communications managed (with some prodding by very hard-working District of Elkford staff) to connect their emergency power generator in time for the BC Hydro planned power outage at the end of August. In any community, maintaining cellular access to emergency services (like 9-1-1) is critical—as is access to information in an emergency—and for more and more people, a landline is a thing of the past.
Let's hope Hydro's required upgrades will mean a more stable supply of electricity in Elkford going forward!
Healthcare Advocacy Continues
We continue to advocate and engage in ongoing discussions with Interior Health and the Kootenay East Regional Health District for improvements to the model of healthcare provision in Elkford. We may have limited influence, but I feel that we've been very successful so far. Keep reading my musings for vague updates on this front. I remain hopefully excited about future changes to healthcare in Elkford!
Community Improvements: Downtown Core Utilities Project and More!
Is there anyone in town who is not looking forward to the completion of the downtown paving and road improvements? I am excited to see the results of this project! The Elkford Housing Society's Seniors' Housing project building has also now progressed to groundbreaking, with a fenced hole. This, too, is exciting to see!
District of Elkford staff also continue to entertain discussions from developers and builders. The new Downtown Core Plan, adopted by council in 2021, has really helped us demonstrate our commitment to reasonable growth and flexibility of planning!
Engaging in Elkford
Fall doesn't just herald back to school excitement, it's also community sign-up time for fall programming! Fall program offerings include art to pickleball, swimming, skating and beyond! Even if you miss a deadline, you may still be able to sign up for an activity (if it has made the minimum number of registrants to run, and isn't full, of course)—or offer to run an activity! The more things that people step up to offer as instructors, the more things we're able to run and the more activities that will exist for different age and interest groups in Elkford. From plastic model building to HIIT classes, if someone doesn't offer to teach it? It won't run.
Mark your calendars for the upcoming ElkFORWARD Fall Fest on Tuesday, October 24, from 5 to 8 p.m. too! You're invited to join us for this family-friendly event to celebrate fall in Elkford and the update to our Official Community Plan. All are welcome! Learn more at www.elkford.ca/elkforward.
Plenty of volunteer opportunities exist, as well! Check out opportunities to volunteer at the ski hill, golf course, ATV and Trails Alliance and Snowmobile clubs and the Elkford Fire Department (as a paid-on-call volunteer firefighter). To remain the vibrant community we know and love, Elkfordians need to be engaged with Elkford!
Until next time,
Mayor Steve