Meet Your Council
Meet mayor and council for the District of Elkford and learn about how your voice and input are heard at the council table.
Elkford is a quintessential small town, and that means that your mayor and councillors are your neighbours. They all have strong ties to this community, and it's important to them that your voice and input is heard at the council table.
Your elected council consists of a mayor and six councillors who govern the District of Elkford. Council members are elected for a four-year term, with the current term ending in November 2026. The Community Charter gives council the authority to set budgets, levy taxes and establish policies to guide the growth, development and operation of Elkford to the benefit and protections of its citizens.
The District of Elkford's council for the 2022 to 2026 term is pictured below. Stay tuned for their bios!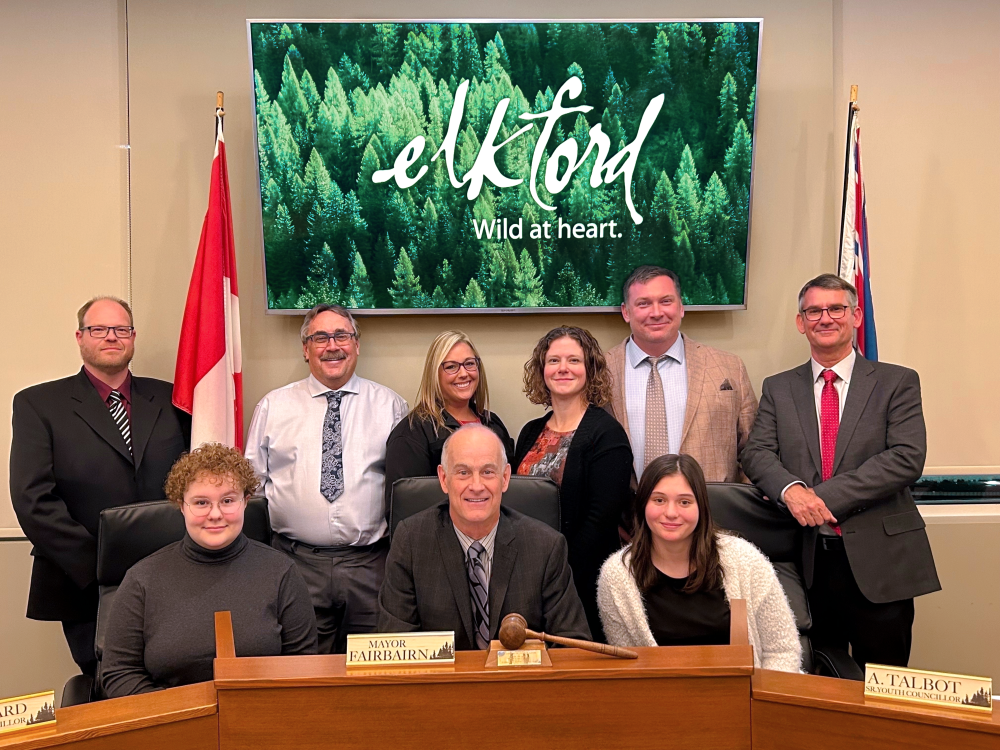 District of Elkford Council
2022 to 2026 Term
BACK ROW (LEFT TO RIGHT): Councillors Jason Meldrum, Duncan McDonald, Shawna Bryant, Tathlina Lovlin, Len Gostick and Bert Schalekamp.
FRONT ROW (LEFT TO RIGHT): Junior Youth Councillor Alex Sheppard, Mayor Steve Fairbairn and Senior Youth Councillor Abigail Talbot.
Spacer

Format: Small Screens
Extra Small Spacer
Format: Large Screens
Extra Small Spacer
Youth Councillors
Each year, District council appoints two Elkford Secondary School students to represent Elkford's youth at the council table: one senior and one junior youth councillor. These young community leaders join council to increase awareness of youth-related issues, advocate for their peers and give the youth of Elkford a voice at the municipal level.
Council's Statutory Responsibilities
Municipal council is the governing body of our municipality, and they make decisions collectively with goals of good governance, to provide services, laws and stewardship for public assets and to foster the economic, social and environmental wellbeing of our community. Council represents the interests of residents and taxpayers, provides leadership and guidance to the community and facilitates communication between the public and municipal administration.
Your council's statutory responsibilities include:
Considering the wellbeing and interests of the town
Contributing to the development and evaluation of policies and programs for the District of Elkford (with respect to its services and other activities)
Participating in council meetings, committee meetings and meetings of other bodies to which the member is appointed
Carrying out the duties assigned by council
Carrying out the duties assigned by or under the Community Charter or any other act
Your mayor's statutory responsibilities are:
Providing leadership
Communicating information to council
Presiding at council meetings
Providing, on behalf of council, general direction to statutory municipal officers respecting implementation of council's policies, programs and other directions.
Reflecting the will of council
Carrying out other duties on behalf of council
Official Correspondence With Council
For official correspondence with council, contact info@elkford.ca.