PHOTO CREDIT: JUDY ZIMMER
Aquatic Centre
The Elkford Aquatic Centre is a family-friendly, wheelchair accessible facility with a four-lane swimming pool, two slides, a diving board, hot tub and electric sauna.
Take a class, focus on your fitness or come relax in the hot tub and enjoy views of the Rocky Mountains! The Elkford Aquatic Centre has four lanes for swimming and a "beach-front" access for young children, a diving board, slides, a whirlpool tub and a sauna. The facility also houses the Elkford Public Library and a rentable multi-purpose meeting room.
The Elkford Aquatic Centre is located at 816C Michel Road and is a family-friendly aquatic facility that caters to all ages, abilities and interests. The facility, pool and hot tub are all wheelchair accessible.
 
Aquatic Programming
We regularly offer Lifesaving Society swimming lessons and Red Cross Youth leadership courses. With accredited facilitators working at the facility, we offer an array of courses and recertifications, including:
Aquafit
Lifesaving Society swimming lessons
Craft & Splash for preschool-aged children (Note that all children must be potty-trained)
View all current aquatic programs and scheduled swim lessons on our recreational programming page.
Spacer

Format: Small Screens
Extra Small Spacer
Format: Large Screens
Extra Small Spacer
---
Scroll to #current-pool-schedule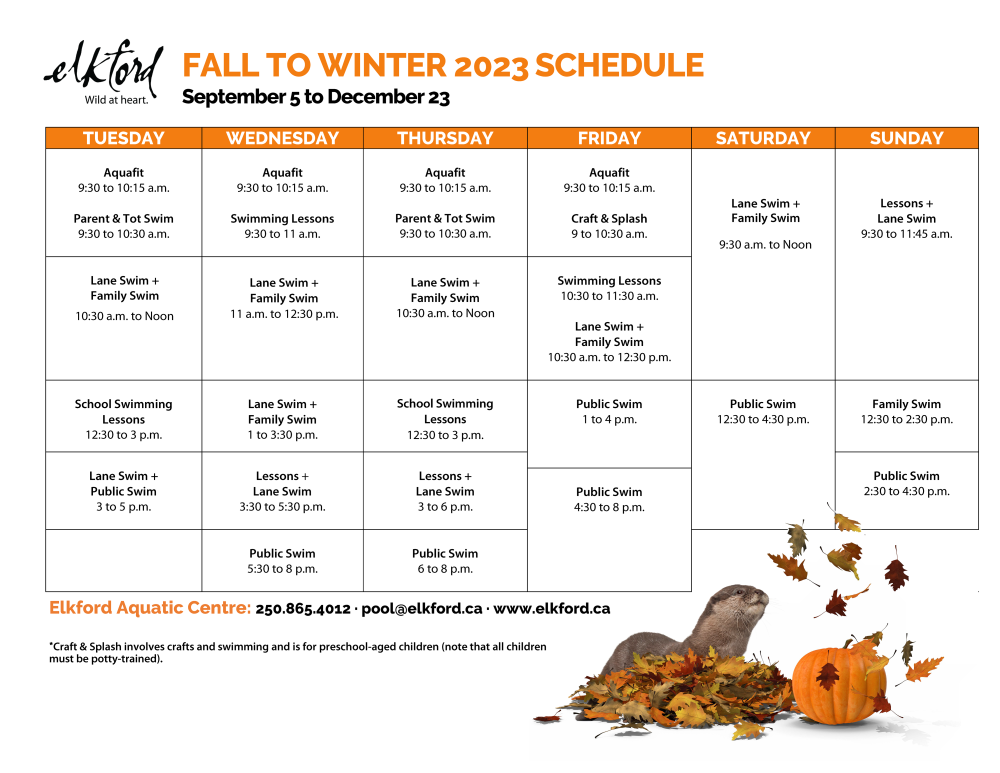 Current Pool Schedule
Parent & Tot + Lane Swimming: A quiet swim, perfect for parents/guardians of babies and toddlers (from the ages of infant to six years old) to enjoy the shallow end and beach area, while others partake in swimming laps in the deep end.
Family Swimming: A swim specifically for families to enjoy time together. A parent or guardian is required to be always in the water and within arms' reach with their children.
Public Swimming: The liveliest of our scheduled swims! Everyone is welcome! Children under the age of six require a guardian in the water and within arms' reach with them.
Within arms' reach: All children ages six and under are required to be within arms' reach of a parent/guardian, regardless of swimming abilities. Lifejackets are encouraged, but do not replace the rule that children must be supervised.
Private Rentals: Available for occasions such as birthday parties and rehabilitation with a private specialist. Please contact us at 250.865.4012 or pool@elkford.ca for more information about private rentals!
DOWNLOAD A PRINTABLE PDF OF THE CURRENT POOL SCHEDULE
** Note that during the timeframe when this pool schedule is in effect, the Aquatic Centre will also be closed from 1 p.m. onwards on Saturday, September 9 for a private booking. The pool will be open as normal from 9:30 a.m. to noon that day. Contact 250.865.4012 or pool@elkford.ca for more information.**
For more information about hours, rates, programming or registration, contact us at 250.865.4012 or pool@elkford.ca.
Spacer

Format: Small Screens
Medium Spacer
Format: Large Screens
Medium Spacer