PHOTO CREDIT: JUDY ZIMMER
Aquatic Centre
The Elkford Aquatic Centre is a family-friendly, wheelchair accessible facility with a four-lane swimming pool, two slides, a diving board, hot tub and electric sauna.
Take a class, focus on your fitness or come relax in the hot tub and enjoy views of the Rocky Mountains! The Elkford Aquatic Centre has four lanes for swimming and a "beach-front" access for young children, a diving board, slides, a whirlpool tub and a sauna. The facility also houses the Elkford Public Library and a rentable multi-purpose meeting room.
The Elkford Aquatic Centre is located at 816C Michel Road and is a family-friendly aquatic facility that caters to all ages, abilities and interests. The facility, pool and hot tub are all wheelchair accessible.
 
Aquatic Programming
We regularly offer Lifesaving Society swimming lessons and Red Cross Youth leadership courses. With accredited facilitators working at the facility, we offer an array of courses and recertifications, including:
Aquafit
Lifesaving Society swimming lessons
Craft & Splash for preschool-aged children (Note that all children must be potty-trained)
View all current aquatic programs and scheduled swim lessons on our recreational programming page.
Spacer

Format: Small Screens
Extra Small Spacer
Format: Large Screens
Extra Small Spacer
---
Scroll to #current-pool-schedule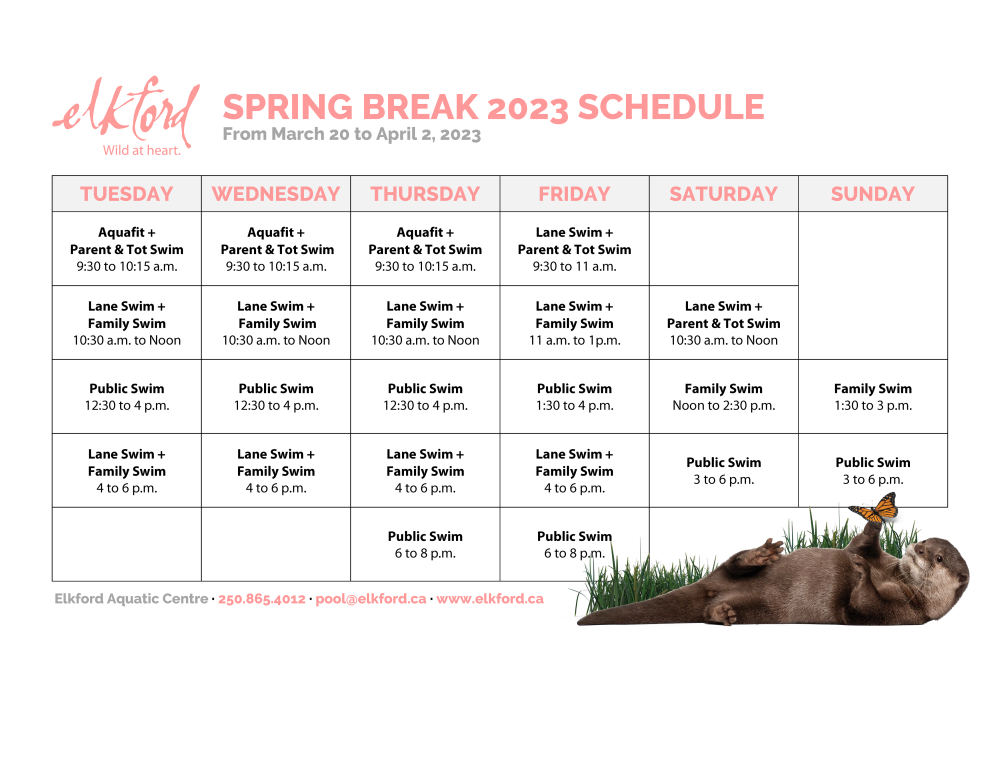 Current Pool Schedule
Parent & Tot + Lane Swimming: A quiet swim, perfect for parents/guardians of babies and toddlers (from the ages of infant to six years old) to enjoy the shallow end and beach area, while others partake in swimming laps in the deep end.
Family Swimming: A swim specifically for families to enjoy time together. A parent or guardian is required to be always in the water and within arms' reach with their children.
Public Swimming: The liveliest of our scheduled swims! Everyone is welcome! Children under the age of six require a guardian in the water and within arms' reach with them.
Within arms' reach: All children ages six and under are required to be within arms' reach of a parent/guardian, regardless of swimming abilities. Lifejackets are encouraged, but do not replace the rule that children must be supervised.
Private Rentals: Available for occasions such as birthday parties and rehabilitation with a private specialist. Please contact us at 250.865.4012 or pool@elkford.ca for more information about private rentals!
For a detailed list of fees and charges, click here.
DOWNLOAD A PRINTABLE PDF OF THE CURRENT SCHEDULE
For more information about hours, rates, programming or registration, contact us at 250.865.4012 or pool@elkford.ca.
---
Scroll to #upcoming-pool-schedule
Upcoming Pool Schedule
Hey, early birds! Wondering what's happening next at the Elkford Aquatic Centre? You'll find that right here!
DOWNLOAD A PRINTABLE PDF OF THE UPCOMING POOL SCHEDULE
Please note that the upcoming pool schedule does not take effect until the dates reflected on the schedule.
Spacer

Format: Small Screens
Extra Small Spacer
Format: Large Screens
Extra Small Spacer
---
Scroll to #passes-private-rentals-rates-and-more
Pool Passes, Private Pool Rentals, Admission Rates and More!
Looking for more information about the types of lessons and programs we offer at the Aquatic Centre, as well as pool passes, private pool rentals, admission rates and more? You're in the right spot!
Trying to find upcoming classes, programs and scheduled swimming lessons? Head over to www.elkford.ca/programs.
Still have questions? Contact 250.865.4012, pool@elkford.ca or visit 816C Michel Road.
Spacer

Format: Small Screens
Extra Small Spacer
Format: Large Screens
Extra Small Spacer
The Lifesaving Society's Swim for Life® program is a comprehensive swim lesson program that focuses on the development of fundamental swim strokes and skills for learners of all ages and abilities. Instructors ensure swimmers get lots of in-water practice in every lesson. Swim for Life includes fun, hands on activities that focus on teaching Water Smart education for the whole family.
Lessons that will last a lifetime!
Parent & Tot: The Lifesaving Society Parent & Tot lessons structure in-water interaction between parent and child to stress the importance of play in developing water-positive attitudes and skills. Activities and progressions are based on child development allowing parents to register in the level appropriate for their child's age: four to 12 months, 12 to 24 months, or two to three years.
Preschool: Give your child a head start on learning to swim! The Lifesaving Society Preschool lessons develop an appreciation and healthy respect for the water before they get in too deep. With a progression-based approach, instructors work to ensure three to five year-olds become comfortable in the water and have fun while developing a foundation of water skills. Water Smart education is included in all Preschool levels. Preschoolers enter Swimmer 1 once they turn five or six years old and can enter Swimmer 2 once they've completed Preschool 5.
Swimmer Program (Kids 5 to 12): The Lifesaving Society's Swimmer program makes sure your children learn how to swim before they get in too deep. Each level challenges school-aged children to develop safe entries, deep water support, underwater skills, and swimming strokes. Kids learn healthy habits by getting and staying fit in the water. Swimmer levels include fun, hands-on activities that focus on teaching water safety; lessons that will last a lifetime!
Adult Swim: Whether you're just starting out or just want help with your strokes, the Adult Swim program is for you no matter your age! Work with certified instructors to learn to swim or improve your current swimming ability and fitness levels. You'll develop confidence in the water and be able to set your own goals. Water Smart education is included in all Adult levels.
Fitness Swimmer: No matter your age, Fitness Swimmer lets you set your own goals to improve overall physical fitness in the water. Fitness Swimmer is a structured approach based on accepted training principles including stretches, interval training, sprints and distance swims.
Learn more at www.lifesaving.bc.ca/swim-for-life.
In alignment with the Lifesaving Society's professional lifeguard training program, we offer the courses that aspiring lifeguards need.
Standard First Aid: A WorkSafeBC Occupational Level 1 equivalent that can be used in the workplace. Includes comprehensive training covering all aspects of first aid, CPR and AED use. This courser builds upon Emergency First Aid and goes beyond, teaching more advanced techniques.
Bronze Cross: This course begins the transition from lifesaving to lifeguarding and prepares candidates for responsibilities as assistant lifeguards. Candidates strengthen and expand their lifesaving skills and begin to supply the principles and techniques of active surveillance in aquatic facilities. It also emphasizes the importance of teamwork and communication in preventing and responding to aquatic emergencies. Participants must be at least 13 years of age and have Bronze Medallion.
Bronze Medallion: A flagship certification that teaches an understanding of the lifesaving principles embodied in the four components of water rescue education: judgment, knowledge, skill and fitness. This course challenges the candidate both mentally and physically to acquire the assessment and problem-solving skills needed to make good decisions in, on and round the water. Participants must be at least 13 years of age and have Bronze Star.
National Lifeguard: Pool with Airway Management and Oxygen Administration (AMOA): Provides participants with the knowledge and practice required to maintain an airway and administer supplemental oxygen. This is a prerequisite for National Lifeguard and has been incorporated into the course. The National Lifeguard Pool Certification is designed to develop the fundamental values, judgment, knowledge, skills and fitness required by lifeguards. With emphasis on lifeguarding skills, principles and practices, and the decision-making process, this course will teach the candidate to provide effective safety supervision in swimming pool environments. Participants must be at least 15 years of age and have Bronze Cross and current First Aid.
Private pool rentals are available on Saturdays and Sundays, outside of scheduled swim times. Rentals must be booked a minimum of two weeks in advance. Please call the Aquatic Centre at 250.865.4012 or email pool@elkford.ca to book.
In alignment with the Canadian Red Cross' widely recognized curriculums, the Elkford Aquatic Centre offers youth babysitting and safety programs.
Babysitting Course: Kids learn how to manage difficult behaviour, identify unsafe or risky activities, basic care of small children and necessary first aid skills. After successfully completing the course, students receive a Canadian Red Cross Babysitting Certificate that will make their resumé stand out from the competition and can give them the confidence they need to excel at babysitting. Students must be 11 years or older.
Stay Safe! Course: Want to feel more confident while your child is home by themselves? This program teaches applicable and age-appropriate skills while increasing and reinforcing your child's capacity to make decisions that promote their own safety. This class gives kids the tools for practising safety in a variety of situations, whether out in the community or at home alone. Students must be 9 years or older.
Visit the Canadian Red Cross website to learn more.
One pass, three communities! Do you work in another Elk Valley community? Find yourself travelling within the Elk Valley? Wondering what recreational opportunities are available Valley-wide? By purchasing the annual Elk Valley Recreation Access Pass, you will gain access to facilities and programs in Elkford, Sparwood and Fernie!
Facilities that take part in the Access Pass:
District of Elkford: Elkford Aquatic Centre, Elkford Recreation Centre (Arena)
City of Fernie: Fernie Aquatic Centre, Fernie Memorial Arena
District of Sparwood: Henry Volkman Memorial Recreation Centre
Programs included in the Access Pass:
Public swimming
Family swimming
Lane swimming
Public skating
Family skating
Skate & Shoots
Drop-in Fitness Centre(s)
Passes are valid for one calendar year from date of purchase. Purchase your individual Access Pass for $403.56 or your Family Access Pass for $849.52 at any of the above facilities.