Mayor's Musings for June 2023—By Steve Fairbairn, Mayor for the District of Elkford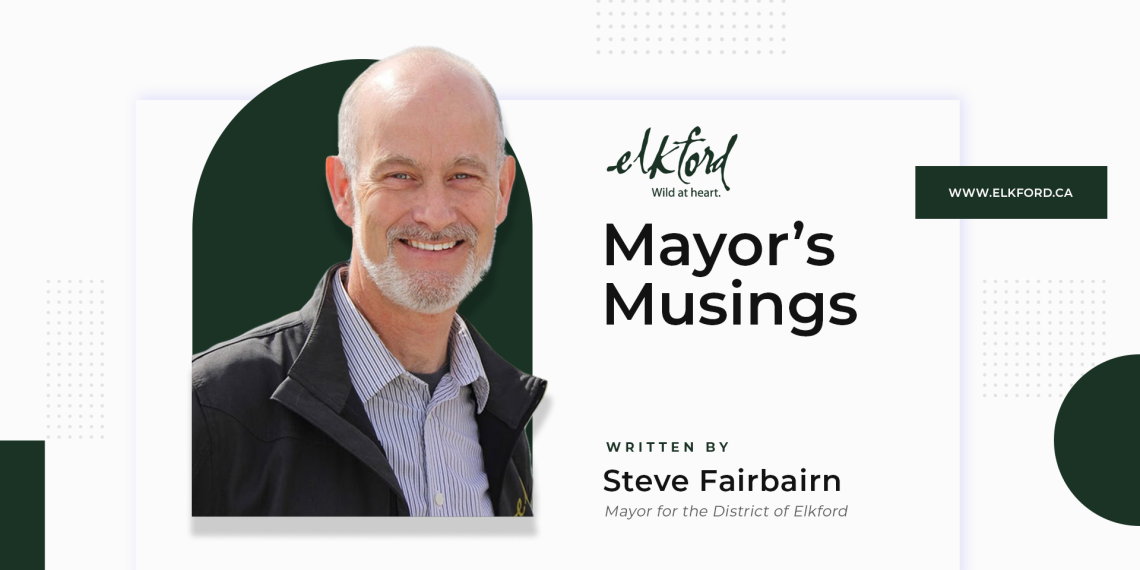 Mayor's Musings for June 2023
by Steve Fairbairn, Mayor for the District of Elkford
Welcome to summer, Elkford! I hope that this one goes down in history as one of your favourite summers with family and friends, and that all your adventures are better than what you thought they'd be.
Speeding in Town
One long-standing resident complaint is the number of traffic violations in town, which is being addressed by the local Elk Valley RCMP detachment. Folks may have noticed some RCMP cruisers around town lately. Parked. Occupied. Let's hope that the officers will find Elkfordians to be respectful of the speed limits in and around Elkford. Yes, I know: "but, they're never there when…" that is a reality of life everywhere.
Blast From the Past
More quotes from the November 1981 edition of The Carbon Copy (the news magazine of Fording Coal Limited):
"The Village Council is presently reviewing a proposal for a 70-unit full-service motor hotel from a group with experience in operating hotel facilities. The hotel would feature a swimming pool, coffee shop, dining room, poolside lounge, tavern and banquet/meeting facilities . . . sidewalks around the centre will be covered where possible . . . it will all be linked by a pathway called the Devonian Walkway across Boivin Creek . . . the Village of Elkford has approved the purchase of four lots in the town centre. Lots have been sold to McGowen Holdings from West Vancouver to develop two buildings on three lots. Both buildings will be two storeys and contain retail/office/banking space . . . [a] lot has been sold to Karl Maartman Limited from Elkford to build a two-storey office/retail complex."
The more things change…
Sewer Lagoon Smells
Regarding sewer lagoon smells, here is what I gleaned from my conversations with a knowledgeable person:
The reasoning for the additional odour at this time of year is the lagoon doing its annual flop when temperatures cause the temperature in sewer to change in gradation from top to bottom. Whenever there is heat or a few sunny days this will also cause additional odour.
Yes, uneven flows can contribute to odour issues, however, all the trucked-in waste only makes up approximately 0.5 per cent of our flow volume. Yes, our work on a new lagoon cell—which is currently underway—will have a long-term positive impact on the health of our lagoon system.
The review of the lagoon system will result in changes that should address at least some of the seasonal odour issues going forward: removing clay in the base of cell 5, aerator repair/replacement (the existing system was turned off for many years and now that we are using it again, it is showing its age) and an improved trucked-liquid waste receiving station. The new cell being constructed will help us perform maintenance in the future, and it also give us a much greater margin of volume to prevent the need for waste discharge into the Elk River.
Grand Opening of Elkford's Childcare Centre
Yeehaw! The child care portion of the new Elkford Childcare Centre and Community Hub had its grand opening, and what a nice facility it is! Hats off to all who had a role and to the various major funders of this project.
Wildfire Season
I'm going to leave you with another reminder that it is fire season. Please honour and follow the fire bans: this is for the benefit of all things great and small.
We've had a few "close calls" over the years. Let's review some of them, shall we?
From the fire high up on the ridge north of the Crossing Creek drainage (anyone remember going to the Look Out to watch it in the evening? Better than the submarine races, eh?), the two fires in 2018 over in the Bull River drainage (we could see the glow and the billowing smoke, and we all had ash fall on our vehicles), the smouldering lighting strike on the ridge, just north of the Weigert Creek forestry road, facing Highway 43 (in a location that was not accessible for fire fighting) to, finally, the fire last summer northwest of Sparwood (that one wasn't a direct threat to us, except for the high risk of smoke leading to the closure of Highway 43). The fire danger in Elkford is not an academic exercise, it is a real and present danger that we all have a role in managing. Get your evacuation kits ready to go now, not later!
There are many great online resources out there; but in case you missed them in my last couple of Mayor's Musings, here are the ones I recommend:
Bookmark these, read them, put them in your phone. Above all, stay safe and enjoy your summer!
Until next time,
Mayor Steve
Spacer

Format: Small Screens
Extra Small Spacer
Format: Large Screens
Extra Small Spacer
PHOTOS 1 & 2: "The sun through the smoke over 'No Name Mountain' in August of 2018" by Steve Fairbairn
PHOTO 3: "A view of the fire damage near the west end of Crossing Creek trail, taken in early 2019, showing fire damage from the 2018 fires" by Steve Fairbairn