Mayor's Musings for April 2023—By Steve Fairbairn, Mayor for the District of Elkford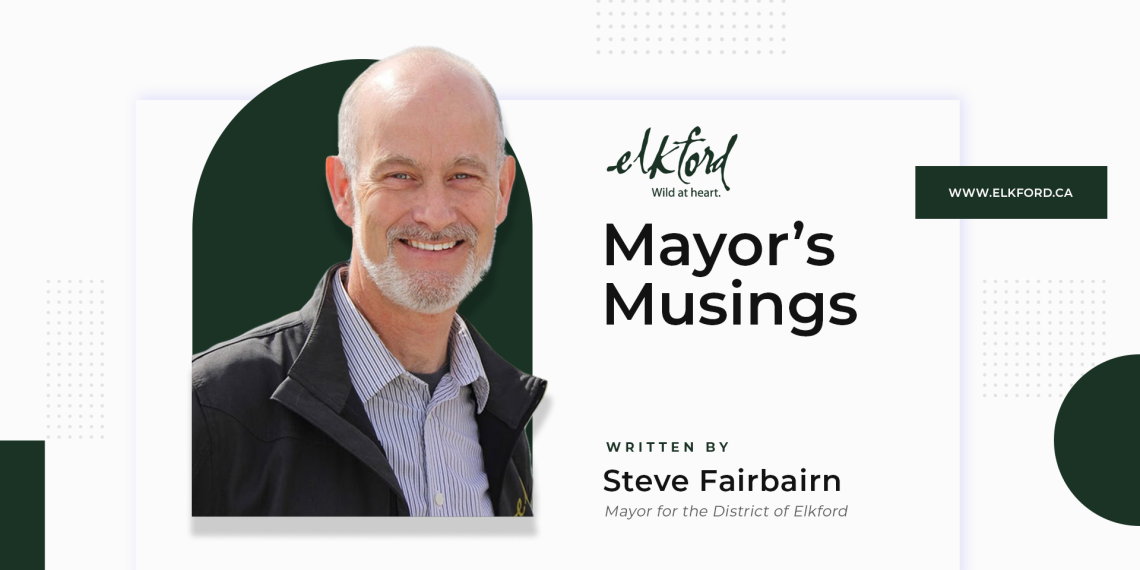 Mayor's Musings for April 2023
by Steve Fairbairn, Mayor for the District of Elkford
Hello Elkfordians!
As winter becomes spring, and we all head outside, here is an important safety reminder for you: please learn to walk facing traffic (except where there are sidewalks). It's much safer to be aware of what is coming toward you.
Downtown Core Utilities Project and Paving
Mayor and council have approved a contract for the final major paving and underground services project for the next while (let's hope 20+ years?). That's right: Alpine Way, from Fording Drive to the 'Red Light' district, will be a massive construction zone all summer long (as will Fording Drive and Boivin Road).
Factor in the anticipated construction of the Seniors' Housing Facility this summer—a project of the Elkford Housing Society—also on Alpine Way, and you can expect an ACTIVE CONSTRUCTION ZONE on Alpine Way, from Fording Drive to the four-way stop. All summer.
Detours will be in place. So, if you are in a hurry, if you are impatient, and if you can't cope with traffic delays and rough roads, I recommend that you find another way to get where you want to go.
Congratulations to our Citizen of the Year
I'd also like to share a personal shout-out to Steve Wood, our 2023 Citizen of the Year. You'll likely see him cleaning up the ditches along Highway 43. Speaking of which… stop littering!
Blast From the Past: Downtown Revitalization
On the topic of downtown revitalization, here are some more quotes from the November 1981 edition of The Carbon Copy (the news magazine of Fording Coal Limited):
"Clearing of the Deerborne area, a subdivision of approximately 387 lots owned by Fording, Crows Nest Resources, B.C. Coal and the Village will begin this year . . . [it] is being developed under a $8.7 million Crown Land Development Agreement . . . if approved this will be the largest agreement ever undertaken by the province."
From the same publication, here is a kicker in the 'what was once new is new again' file:
"A major part of the Village's development is the Elkford Town Centre, a 17-acre, $17.7 million facility. The Centre, to be built over the next few years, will provide public accommodation, commercial office space, some community facilities and parking. The site, located by Alpine Way and Boivin Drive, is located within walking distance of residential and apartment developments and the Mountain Meadows Golf Course. Utility servicing is now underway . . . The Centre, a complex of buildings grouped together, will house several small malls; a bank/office building; a bank/legal service building; an 18,000 sq. ft grocery store; drug store; commercial; business area; and medical/dental building."
There was also an article on village planning for the Town Centre in the September 6, 1979, edition of The Elkford Bugle:
"[T]he commercial sector of Elkford as having the following problems to varying degree . . . poor management by entrepreneurs; restricted entry–unavailable land; insufficient market size; high prices—monopoly power; poor marketing; social need to travel; and external competition . . . limited number of retail outlets and restricted floor space; the reasonable food prices but high prices [,] or costs for other items; extensive travel to other centres, particularly Alberta, but for selection as much as price."
The more things change, the more they seem to stay the same. What will it take to break this cycle? Will it be a growing population and a broadening of social destinations like cafes, restaurants and an up-market pub? Micro and pop-up shops? The development of Elkford as a recreational destination? The experts say that we have a municipal government in place that is facilitating ease of development, but what is lacking is 'the first' developer and a visionary entrepreneurial class.
More excerpts coming in the next Musings!
Solid Waste
Rules, rules and more rules! All from beyond our control. Recycle BC says no commercial recycling. Well, they've also said that in a year or so that this too shall change, at least as far as compostable products (restaurant and produce) and (at least) for larger communities than ours.
Yellow bins: the cost to us through the RDEK for haulage of yellow bins will reach $500/tonne by 2024, up from $340/tonne. Poor market conditions, storage and fuel costs. We pay less for solid waste haulage. Yellow bins will no longer exist past 2025, or so I've been told. We get paid approximately $150/tonne for the materials coming out of the recycling depot at the Elkford Transfer Station.
Slash Piles
Our fire department—the paid-on-call fire fighters—are continuing to deal with the 1,000+ slash piles remaining from the 'interface fire treatment' programs of the last few years. Having our folks deal with them ensures that we'll get the remaining grant funding for wildfire prevention, AND that we'll keep more of those dollars in town! Let's hope we don't ever get so close to the real thing!
Here is a handy resource from FireSmart on how to protect your home and property.
Advocacy
Staff and your mayor are continuing to knock on doors and host meetings with some fairly interested developers. Not only residential developers either… we've received inquiries from a few 'light industrial' companies looking for new locations for their businesses. Diversification does mean some changes, as does population growth. Where does the balance lie?
Enjoy the sunshine and start of springtime, folks!
Until next time,
Mayor Steve