Mayor's Musings for October 2023—By Steve Fairbairn, Mayor for the District of Elkford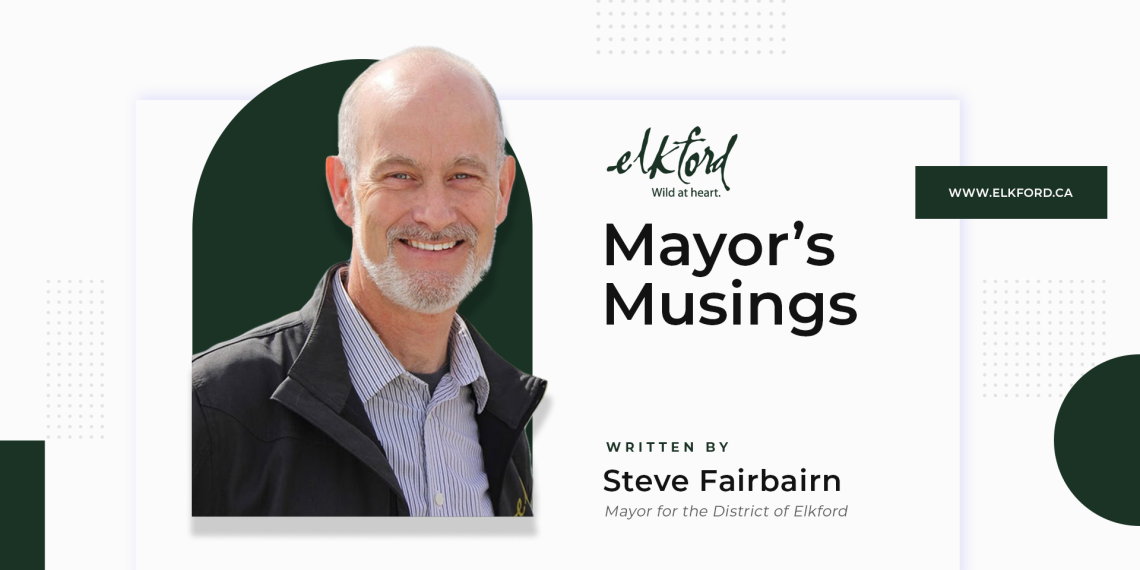 Mayor's Musings for October 2023
by Steve Fairbairn, Mayor for the District of Elkford
Happy autumn, Elkfordians! And what a spectacular fall season we've been treated to this year!
One-Year Anniversary
Your council (Shawna Bryant, Duncan McDonald, Jason Meldrum, Tathlina Lovlin, Len Gostick and Bert Schalekamp) and I have been at work for one full trip around the sun now. This amounts to 25 regular council meetings, about 20 in-camera council meetings, a few Committee-of-the-Whole meetings, one complete cycle of financial planning and strategic planning (both of which are about to start again, by the way), one Association of Kootenay and Boundary Local Governments Annual General Meeting, one Union of BC Municipalities Convention, one Federation of Canadian Municipalities Convention, one Regional District of East Kootenay Regional Governance Forum and one Local Government Leadership Academy Newly Elected Officials' training session. That's a few hours on-task, for sure.
Let me be the first to congratulate Elkford's council on a job well done—collegially and respectfully—while remaining open to new information and different approaches to solving the issues that the District of Elkford faces going forward. Even though we sometimes face contentious issues and very difficult decisions, we can still laugh with each other.
Solid Waste
So far in 2023, Elkford is sending fewer tonnes of solid waste to the central landfill than we did last year. To me, this indicates that we are diverting a larger share of our waste into the recycling stream. Keep up the good work everyone!
Hunters, for what it's worth: if you are dumping animal carcasses up some dirt road, remember that you are attracting bears to Elkford. Take the carcasses to the RDEK's Elkford Transfer Station for proper disposal (note that carcasses must be bagged).
Bears and Urban Wildlife
Those who don't follow the rules are leading to the potential doubling of solid waste collection costs in Elkford. It's complicated. Supply chain issues are but one component. Commercial bins (those big round black plastic things, the ones that look much like the grass clipping bins, that are supposed to be housed inside wildlife-resistant structures and closed and latched) at all the apartment buildings and businesses in town are one issue. Converting them to steel-lidded bins would require not only all-new bins, but the purchase of a new truck to haul their contents in. That is a massive cost that would be borne by each resident of Elkford. Especially those in apartments and commercial businesses!
Will that fix the problem? I doubt it. At least, not entirely. Individuals would still have to change their behaviour. Garbage put into bins properly; bins secured out of reach of animals (collection days will always present an unavoidable kink in the system) and bins themselves being properly secured when outside (again, impacted by collection day issues).
I send my gratitude to the Urban Wildlife Committee for their efforts to reduce human-wildlife conflict and help us move toward ways to coexist peacefully with wildlife in town.
Downtown Core and Infrastructure Upgrades
Have you had a chance to check out the new improvements to our Downtown Core? The complete active transportation network is fantastic! Personally, I've been enjoying the new sidewalks and crosswalks downtown a lot already. My old (circa 1990s) urban bicycle has its winter tires on, and I'm ready for my third winter of bicycling to work, to the post office and to the mall.
Two great benefits of active transportation/bicycling around town are improving your fitness levels and putting less wear on your vehicle as temperatures get lower (okay, well, there's really four benefits there in total if you include enjoying the community and reducing your carbon footprint).
Volunteers and Nonprofit Societies
Volunteers are the reason why Elkford (and every town in Canada, really) has so many great things for residents to do. To all those who volunteer their time—either a few hours or many hours—your efforts add up. And we thank you! It would be a challenge to list all the many amazing groups and activities (both in and around town) that depend on volunteers to run, but they all share one thing in common: volunteering is not something we can leave for someone else to do. Step up, get involved.
Speaking of which, have you considered joining the fire department? Paid-on-call participation also has its rewards! Interested? Call the Elkford Fire Department at 250.865.4020 or email ecalla@elkford.ca.
Until next time,
Mayor Steve