Mayor's Musings for February 2023—By Steve Fairbairn, Mayor for the District of Elkford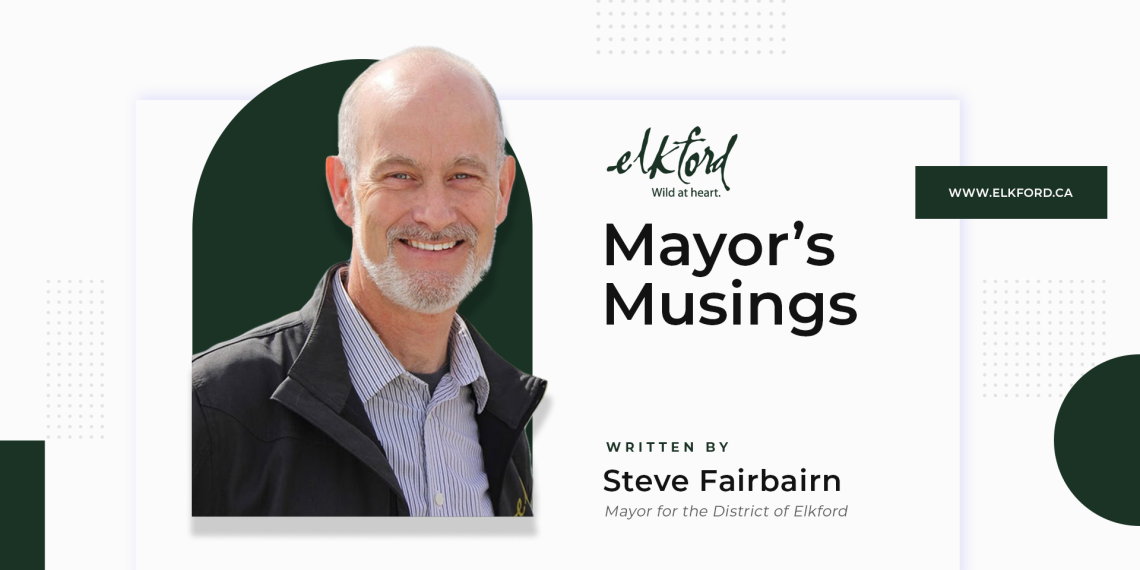 Mayor's Musings for February 2023
by Steve Fairbairn, Mayor for the District of Elkford
Hello Elkfordians! I hope that you are all finding enjoyment and fun in and around town this winter.
Here is a snapshot of what's happening at the District of Elkford (DoE):
We—mayor, council and staff – have been working hard on defining the strategic goals and projects for the upcoming few years. Director Rookes and the Finance Department staff have been burning the midnight oil (and paying carbon tax on that oil 😊) creating budgets for all of the things that have to be done. Just like you with your home budgets, the DoE is facing major cost impacts from inflation and supply chain issues. We also face cost pressures from new provincial mandates and legislative requirements.
Municipal taxes—the portion that stays in the DoE—represent about $0.08 of every tax dollar that you are faced with. That eight cents provides you with safe water, sewer, solid waste management, street lighting, electricity and fuel, recreational opportunities (curling rink, ice rink, pool, parks and playgrounds) for all, support for the Wapiti Ski Hill and Mountain Meadows Golf Course, road maintenance, snow removal, bylaws, fire rescue (a $2.2 million dollar ladder truck for example), business licences (50 per cent goes to support the Chamber of Commerce), community planning and development, public works, recreational and facility staff, administration, insurance AND the massive mandated creation of infrastructure replacement directed reserve funds. These details are publicly available.
Some of the capital projects that we are undertaking—like the ladder truck—include a new loader, snow plow, dump box, commercial water filling station, Town Centre well electrical generator and underground pipe replacement, sewer lagoon upgrades and the replacement of the Fording Drive sewer works. We hope to see the final portion of the curb and gutter/road repaving project finished this construction season as well.
I know that everyone who has driven down Alpine Way to the "Red Light District" (the four-way stop) has experienced the 'unique' road conditions that currently exist along the way. Well, the reasons are long and boring: no bids were received on the downtown paving and services RFP last year (at least none close to the budgeted RFP, anyway). DoE staff found a way to break the original project into pieces so that enough work could be done last fall (underground service connections) to enable the builder of the seniors' facility to build as soon as the frost is out of the ground this spring. It made no financial sense to repave the section of Alpine Way just to rip it apart when the downtown paving/curb and gutter work is undertaken (hopefully) this construction season.
As a result, we get to suffer the rough road (who knew our winter would be the winter we are having?) while the project slowly progresses. The DoE hopes to have the RFP out by the time you read this. Let's all hope that inflation, lack of company availability and other cost pressures don't torpedo the plan again this year.
In other news:
Have you noticed how the outside of the new childcare facility is continuing to evolve? We all hope to see it open "this spring". A new diving board should be up and springy by the time you read this as well. DoE staff have had multiple meetings with developers over the last two months. "Controlled growth" and the creation of homes for families to live in is a strategic priority of this Council and we are actively and aggressively marketing the town to developers as a good place to invest in. Our goal remains the provision of various forms of homes: apartments, duplexes, fourplexes, smaller footprint homes, single floor homes for people and couples to age into (every retirement home should open one existing large family-sized home for a new family to move into) so people who want to live here can actually do so in an economically viable manner.
Discussions with Teck—preliminary at this point—have also begun with respect to the pending 2024 expiry of the Temporary Use Permit for the Elk Valley Lodge—Teck's work camp. Citizen input and ideas are welcome! Send me a note at mayor@elkford.ca with your ideas, what you would like to see going forward, and what you don't want to see, too. I will read every single idea and opinion I get in writing!
DoE advocacy continues with respect to getting the Emergency Department in Elkford reopened. I'm sure you've seen some press on that topic. We've been given answers, and we don't like them. A full complement of doctors by (the end of?) July 2023 and the opening of the Emergency Department, "up to a year later" (according to Minister Dix and other Interior Health administrative personnel). We'll continue our efforts to improve these timelines, get a commitment to an Emergency Department in Elkford and improve other components of the Elkford Health Centre to secure its viability into the future. We have some strong allies on this issue.
Until next time,
Mayor Steve