Grand Opening of Elkford's new Childcare Centre Facility Being Held on Wednesday, June 14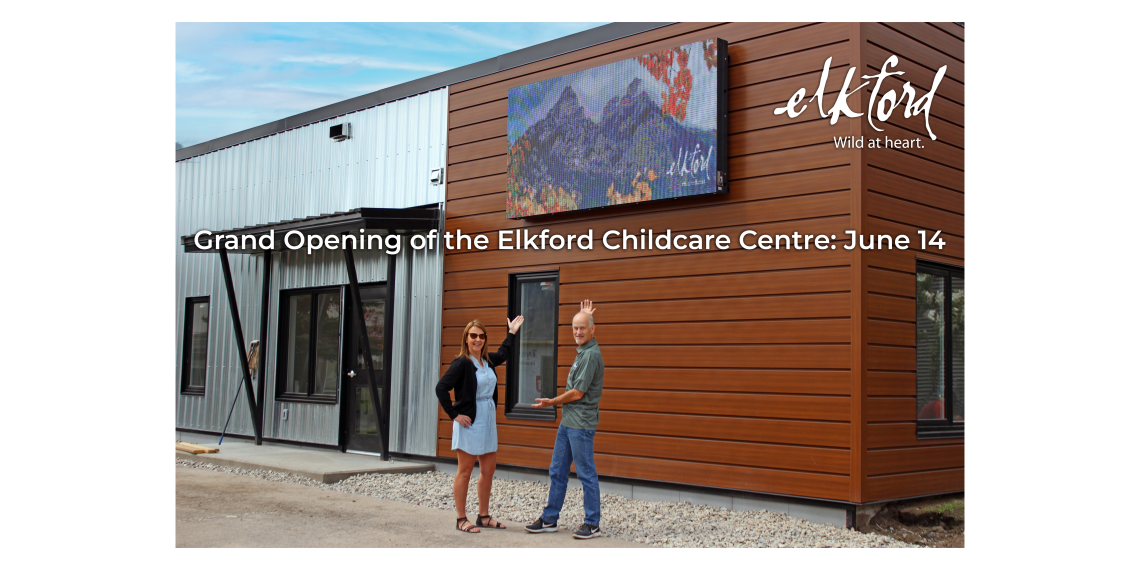 Working parents with little ones in Elkford will want to set a calendar reminder for this one: the new Elkford Childcare Centre is opening its doors on June 14!
The Elkford Childcare Centre and Community Hub is a community project—representing a partnership between the District of Elkford and local nonprofit organizations—that helps address a shortage of available child care and commercial spaces in town. Located downtown, this new, multi-functional facility is situated within the former District of Elkford municipal office building on Michel Road, which underwent extensive renovations to be repurposed into a dedicated space for child care and local entrepreneurs, small businesses and nonprofits to operate from. And Elkford residents will be pleased to note that, impressively, this was funded almost entirely by donations and grants!
"This Centre and Hub is such an incredible asset for Elkford," says Elkford's Mayor, Steve Fairbairn. "This project is also an excellent example of repurposing assets and more importantly, an example of how much can be accomplished when a few great organizations collectively strive toward a common goal. Thanks to the generosity and combined efforts of these organizations, Elkford will have stable and affordable child care in place for many years to come."
"The Elkford Childcare Centre and Community Hub is a great example of how everyone benefits when we work together to deliver child care," says Grace Lore, Minister of State for Child Care. "Access to affordable, quality child care is life changing for families and good for our communities and local economies. Having a child care centre as part of the hub will also mean children feel connected to their community and will help bring people together."
Funding received for this project totals approximately $2,080,000. Major contributions include a $300,000 donation from Teck Resources Limited (Teck), a $250,000 donation from Columbia Basin Trust and provincial grant funding in the amount of $1,119,352 awarded from the ChildCareBC New Spaces Fund program and $410,648 from the Ministry of Municipal Affairs' Investing in Canada Infrastructure Program. Teck also added the Elkford Childcare Centre into their ground-breaking Copper & Health program by installing antimicrobial copper on high-touch surfaces within the facility, helping to create a safer space for children and carers by naturally reducing the spread of harmful bacteria.
"By creating more child care spaces, this facility will be a very welcome addition in Elkford and Teck is proud to have contributed," says Robin Sheremeta, Senior Vice President, Coal, Teck. "As any parent knows, small children learn with their hands. Installing antimicrobial copper on high-touch surfaces will reduce the spread of bacteria and help keep the facility's youngest users healthy and safe."
Completion of this facility was originally projected for the end of 2022; but like many other projects undertaken during the COVID-19 pandemic, its timeline was adjusted to reflect challenges with pandemic-related inflation pricing and contractor/service availability. Despite delays, the end result has transformed a formerly vacant office building into a beautiful, modernized multi-purpose facility that complements its surroundings and contributes to the District's ongoing efforts to revitalize Elkford's core. Adjacent to the Kootenay Market, the Centre and Hub is surrounded by Elkford's finest recreational offerings, including the Community Conference Centre, Recreation Centre, Aquatic Centre, Elkford Bike Jump & Skills Park, Devonian Park, baseball diamonds, tennis courts and the Boivin Creek recreational corridor.
"The big day is finally here, and this was well worth the wait!" says Kim Bauer, Executive Director of the Elkford Women's Task Force Society. "This community project brings 30 licensed child care spaces to Elkford and fulfills a great need for affordable, quality child care within our community. Parents in Elkford will be so relieved, and we are so excited to welcome the children and their families!"
Operational costs are also anticipated to be fully covered under rental/service agreements, one of which is with the Elkford Women's Task Force Society for the operation of the child care portion of the facility. Negotiations are currently underway with the Elkford Chamber of Commerce for the operation of the Community Hub portion of the facility, which is still under construction and anticipated to open in the coming months.
"The Centre will be a gamechanger for families who want to work outside the home but were facing challenges with the lack of available daycare in Elkford," adds Mayor Fairbairn. "On behalf of Elkford's council and citizens, I want to give a special thanks to District of Elkford staff and the Elkford Women's Task Force Society for all their dedication and hard work on this project—as well as to Columbia Basin Trust, Teck, the Government of Canada and the Province of BC, as well as other donors—for their generous contributions toward the growth and development of Elkford. Without your support, this facility would not exist—and we're grateful!"
The grand opening event, sponsored by Teck, is being held at 816A Michel Road from 6 to 8 p.m. on Wednesday, June 14, and everyone is welcome to attend! The event includes a ceremony, barbeque, family activities and speeches from Mayor Fairbairn, Kim Bauer and donor and grant funding representatives.
– 30 –
MEDIA CONTACT:
Steve Fairbairn
Mayor
District of Elkford
250.865.4000
mayor@elkford.ca