District of Elkford Fire Department Welcomes First Firefighters to its New Live-in Work Experience Program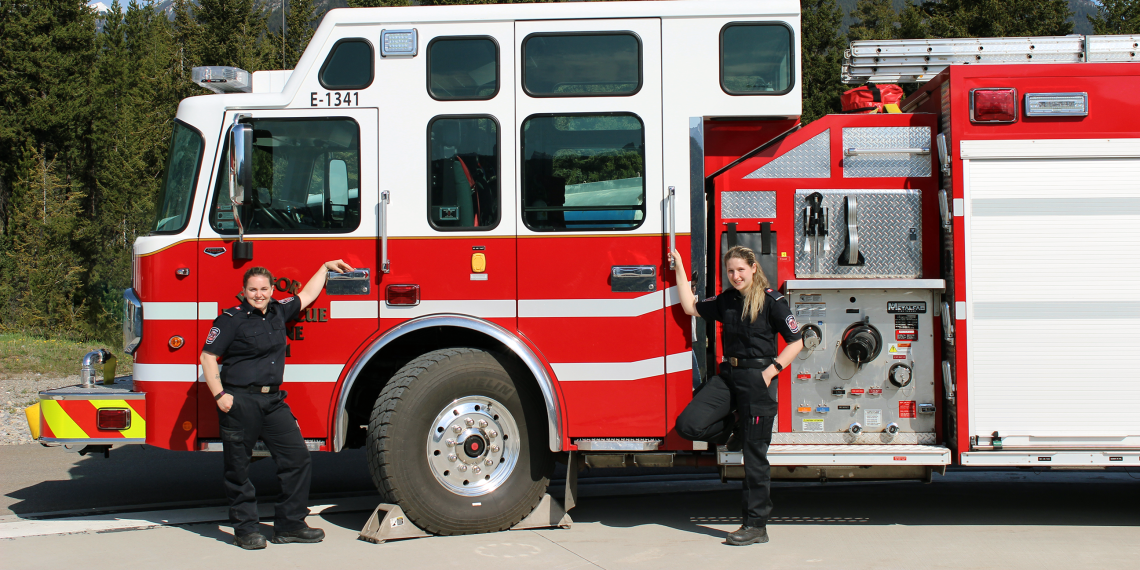 Elkford Fire Department's First Live-In Firefighter WEP recruits, firefighters Jenny Kenny (left) and Sophie Gable (right). PHOTO CREDIT: TASHA CHORNEYKO
What's new in Elkford this summer? For starters, the first ever firefighters taking part in Elkford's new Live-in Firefighter Work Experience Program (WEP): Sophie Gable and Jenny Kenny!
The new Live-In Firefighter WEP provides entry-level firefighters the opportunity to jumpstart their careers and gain the knowledge and experience they need to succeed—plus enjoy the perks of living, working and playing in the Wilderness Capital of B.C. Firefighters taking part in this program, offered by the Elkford Fire Department, receive 24/7 live-in accommodations at the fire hall, as well as remuneration for services in accordance with the firefighting duties performed.
"We are absolutely thrilled to have Sophie Gable and Jenny Kenny here for the summer! These two firefighters arrived in Elkford already well educated, certified and trained to go to work for the community, which is a huge asset not only for our firefighting efforts but also in assisting with fire prevention activities, annual inspections, fire education initiatives and community events. Please take a moment to say hi when you see their smiling faces around town!
- Fire Chief, Curtis Nyuli
Firefighter Sophie Gable joins us from Delta and brings with her four years of experience as a volunteer firefighter with the Sasamat Volunteer Fire Department, serving the Villages of Anmore and Belcarra. Beyond being eager to explore Elkford's mountains, she is looking forward to the chance to learn from—and with—people from different backgrounds and experience, as well as to acquire a fresh perspective on doing the job she loves. She obtained her NFPA 1001 certification through the Justice Institute of British Columbia, and her goal is to become a career firefighter.
"I love that firefighting lets me combine my desire to serve and help others, [through] dynamic, ever-evolving work with some pretty amazing people" says Gable. "The live-in firefighter program provides me with so many exciting possibilities!"
Firefighter Jenny Kenny joins us from Peachland, already having five years of experience working for Peachland Fire Rescue under her belt. In addition to expanding her knowledge and skills through the WEP in Elkford, she is excited to work with different equipment and share some of the things she's learned from her fire department at home in Peachland. Most of all, she values helping others during their time of greatest need and contributing to her community through education.
"What I love most about being a firefighter is being the one that people call on when they've had the worst day of their lives, as well as engaging with the community and doing events with our local schools," says Kenny. "I'm looking forward to being able to go hike around all the amazing trails here, playing golf at the beautiful course in Elkford and getting to know the members of the community."
This summer, you can expect to see both firefighters responding to any emergencies that may arise—from structure and wildland fires to motor vehicle accidents and medical emergencies—in Elkford and the surrounding area. We thank them in advance for their service to our community and invite you to join us in extending the warmest welcome to firefighters Sophie Gable and Jenny Kenny during their time in Elkford!
Media Contacts:
Curtis Nyuli

Fire Chief and Director of Elkford Fire Rescue and Emergency Services
District of Elkford
250.865.4020