Brand-New Bike Park/Pump Track Being Built in Elkford's Boivin Creek Corridor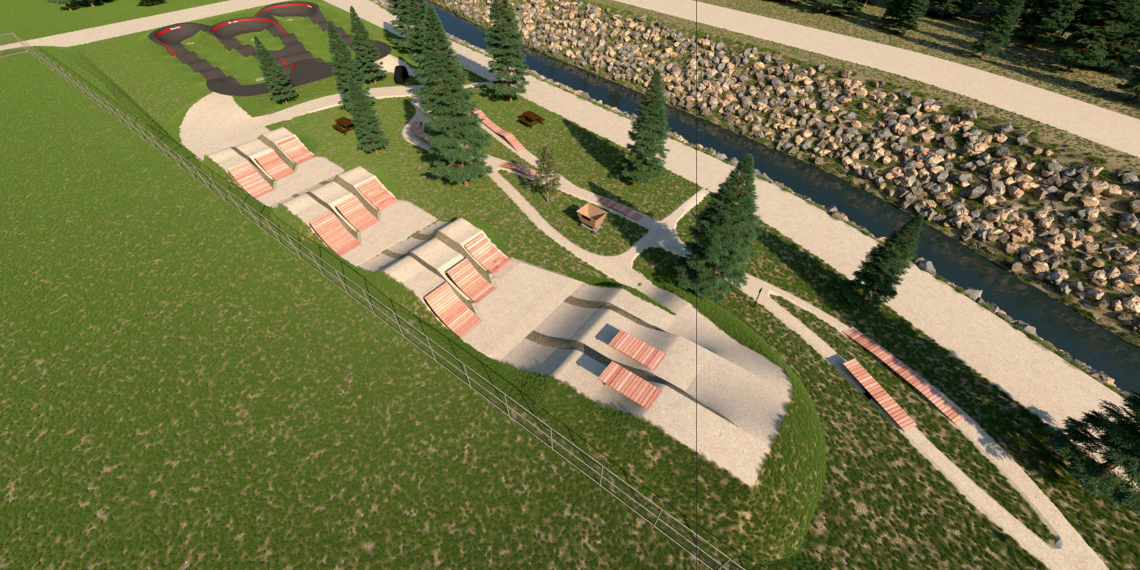 District of Elkford Bike Park Rendering
It's official: from little kids learning to pedal their balance bikes all the way up to expert-level shredders, Elkford's local mountain bikers, BMXers and skateboarders can soon send it at a brand-new bike park/pump track!
The District of Elkford and the Elkford Biking Club are thrilled to formally announce that the Columbia Basin Trust has just granted $250,000 towards the development of a bicycle jump and skills park near other recreation amenities along Boivin Creek, propelling a long-awaited project forward.
"Elkford's youth have needed this for ages, and it's been so awesome to work with people who share our passion for this project" says founder, organizer and Elkford Biking Club President, Jason Meldrum. "As a parent, I was inspired to bring this project forward because I was tired of leaving town so that my son could ride at a bike park. From challenging timelines to pounding the pavement on my lunchbreak doing fundraising, it's been a tremendous amount of work—but so worth it. When it's completed, Elkford will finally have a place for riders of all ages and abilities to sharpen their skills, forge friendships and have fun."
The District of Elkford's Director of Planning and Development Services, Jeremy Johnston, has been working with the Elkford Biking Club on this project since the start. An avid mountain biker himself, he recognizes the value that this project brings to Elkford, its future as an outdoor tourism destination and to realizing council's vision for the revitalization of the downtown core.
"This is another giant leap toward achieving Elkford's Downtown Plan and vastly improving our recreational offerings for youth," says Johnston. "The District has been supporting the Elkford Biking Club on this project and recently closed a public bid process for the construction of the park, which will occur in summer 2022. We're so excited to see this one come to fruition—and we're stoked to ride it, too!"
Residents who enjoy walking along Boivin Creek need not worry that it will detract from the natural beauty of the corridor, either. Built to complement the ruggedness of Elkford's surrounding wilderness, the park's conceptual design promises to be as beautiful as it is functional. It will offer bike jumps and skills features for riders of all abilities, as well as a paved pump track to serve a variety of different users.
"With more and more young families settling in Elkford, creating opportunities for youth is a major priority for council," says Elkford's Mayor, Dean McKerracher. "The District donated the land for this project, and both staff and council have worked collaboratively with the Elkford Biking Club to turn this dream into a reality. We're confident that other organizations in our community will join us and Columbia Basin Trust in contributing to this worthwhile project."
The Elkford Biking Club is still seeking sponsors and will continue raising funds for the project in the coming months. Find them on Facebook to learn more.
Media Contacts:
Jeremy Johnston
Director of Planning and Development Services, District of Elkford
250.865.4000
Jason Meldrum
President, Elkford Biking Club
403.331.8313